Spring is TRYING to arrive, despite the white stuff in all of our yards still…  Be sure to grab this gem early!
Eat What:
-In ancient times, Asparagus was lauded as a highly medicinal plant
-Schwetzingen, Germany claims to be the "Asparagus Capital of the World"
-White Asparagus is also available; in order to achieve its white color, farmers pile dirt on the growing stalks to block out the sunlight, which inhibits the production of chlorophyll, the chemical that produces the green color in plants
Eat When:
-Asparagus is in season from mid-April to early-June
-Select stalks that aren't too dried out at the bottom and whose buds on top are firm and closed and not slimy
-Asparagus will keep in the fridge best when standing in a cup of water; use shortly after buying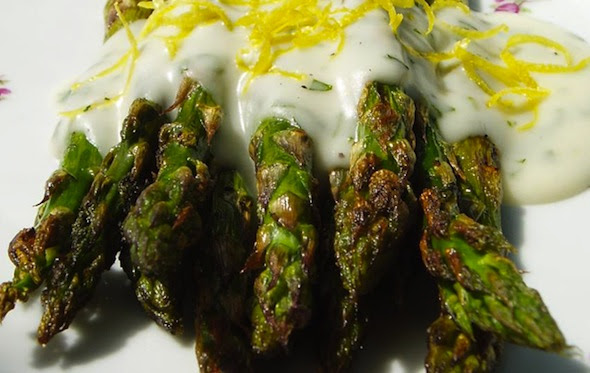 Eat Right:
-Asparagus is high in Vitamins A and K, and folate
-Asparagus is high in anti-inflammatory and phytonutrients
Eat More:
-Simple saute with butter and garlic
–Roast it in your oven
-Steam for a minute, then blanch by throwing into ice water.  Add to salads and pastas, both warm and cold
-Add to omelets or veggie wraps
Freeze-Ahead Lasagna Primavera
This is a Martha Stewart recipe I cut out of an Everyday Food Magazine years ago, and I've been making it at least once a year since. There is just something about this dish that screams "spring" to me.  And you know what?  It doesn't even call for asparagus, but I throw it in there all the same.  Or sub it for the peas if you or your loved ones aren't pea-eaters.  I've never actually made this to freeze, but I'm sure it does wonderfully.  
1/4 cup olive oil, plus more for foil
1/2 cup all-purpose flour
2 garlic cloves, minced
6 cups whole milk
2 packages (10 ounces each) frozen chopped spinach, thawed and squeezed dry
1 package (10 ounces) frozen peas
1/2 pound carrots (4 to 5), halved lengthwise and thinly sliced
Coarse salt and ground pepper
1 container (15 ounces) part-skim ricotta (about 2 cups)
1 large egg
1 package (9 ounces) no-boil lasagna noodles (12 to 16 noodles)
1 pound part-skim mozzarella, shredded
1 cup grated Parmesan
1. Preheat oven to 400 degrees. In a large saucepan, heat oil over medium; add flour and garlic. Cook, stirring constantly, 2 to 3 minutes (do not let flour mixture darken); whisk in milk. Bring to a boil; reduce to a simmer, and cook, whisking occasionally, until thickened, 3 to 5 minutes. Add spinach, peas, and carrots; season with salt and pepper. Set sauce aside.
2.  In a medium bowl, combine ricotta, egg, 1/2 teaspoon salt, and teaspoon pepper.In the bottom of a 9-by-13-inch baking dish, spread a thin layer of vegetable sauce. Layer noodles, half the remaining vegetable sauce, another noodles, half the ricotta mixture, half the mozzarella, and half the Parmesan; repeat.
3.  Cover dish with lightly oiled aluminum foil, and place on a large rimmed baking sheet. Bake 45 minutes, uncover, and bake until bubbling and browned, about 20 minutes more. Let cool 10 to 15 minutes before serving.
To freeze: Prepare through Step 3.  Cover lasagna tightly with plastic wrap, then aluminum foil. Freeze up to three months.
To bake from frozen: Remove plastic wrap, cover dish with oiled foil and place on a large rimmed baking sheet. Bake for 1.5 hours at 400 degrees. Remove foil and bake until bubbling and browned, about 30 minutes more.  Let cool 10 to 15 minutes before serving.
Holly R. Layer
Holly is a registered dietician and a freelance writer. She works as a clinical dietitian at DeGraff Memorial Hospital in North Tonawanda, teaches fitness classes at the Southtowns Family Branch YMCA and shares her love of food through her blog www.thefrozenpineapple.com (new website coming soon), as well as Buffalo News (Refresh), and the East Aurora Co-op Market (the "Eat This" blog series you see here). She lives in East Aurora with her husband Andrew, an East Aurora native and East Aurora Co-op Market board member.