Blueberries are definitely one of my favorite fruits of summer–perhaps even more than strawberries.  My childhood was dotted with blueberries: blueberry pancakes, homemade blueberry ice cream and even the book, Blueberries for Sal.  Just this weekend I splurged and threw a few of the little guys into my pancakes, and last night I whipped up a batch of the best blueberry muffins ever (recipe below)…
Eat What:
-Maine and Michigan produce the most blueberries in the United States
-More than 50,000 beehives are necessary for the pollination of Maine's crop
Eat When:
-Blueberry harvest in the United States is usually from May to late summer
-Store in the fridge unwashed in the original container, rinse before eating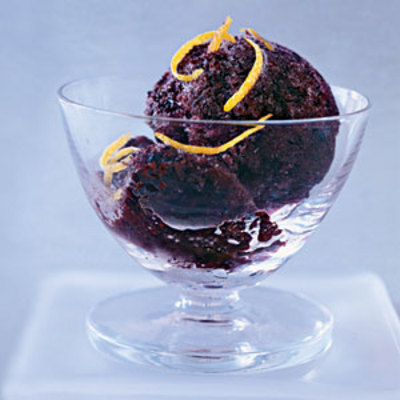 Eat Right:
-Blueberries have a low glycemic index of only 4 out of 100, which means they don't raise your blood sugar very much
-Blueberries are high in manganese, B6, Vitamins C and K and fiber
-Phytochemicals found in blueberries help lower inflammation
Eat More:
-Try blueberry sauce on a lemon pound cake
-Ever wanted to know how to make those Fourth of July popsicles?  Now you do.
-What?! A dessert pierogie?
-Grill chicken and serve with blueberry-basil salsa
Martha Stewart's Blueberry Muffins
A long time ago (well, probably four years or so), I decided to find out what the best blueberry muffin recipe was.  I'd been making a specific one for years, but it occurred to me that it might not be the best.  On one Saturday morning, I made SIX different blueberry muffin recipes and this one was the winner.  It's basic and simple and that's why it won.  Barefoot Contessa's Blueberry Streusel Muffins were also awesome, but a bit too dressed-up.  And wouldn't you know–the recipe I'd been making all those years came in dead last.
6 tablespoons unsalted butter, room temperature, plus more for tins
3 cups plus 2 tablespoons all-purpose flour
3 teaspoons baking powder
1 teaspoon salt
1 1/4 cups sugar, plus more for sprinkling
1 large egg
2 large egg yolks
1 teaspoon pure vanilla extract
1 cup milk
1 3/4 cups blueberries
Preheat the oven to 375 degrees. Butter large (3 3/4 inches) or small (2 3/4 inches) muffin tins, and set aside. In a large bowl, sift together flour, baking powder, and salt; set aside.
In the bowl of an electric mixer fitted with the paddle attachment, cream butter and sugar on medium speed until fluffy, about 3 minutes. Add egg, egg yolks, and vanilla; mix until well combined. Reduce speed to low; alternate adding reserved flour mixture and milk to mixer, beginning and ending with flour. Remove bowl from mixer; gently fold in berries by hand. Divide batter among muffin tins; sprinkle generously with sugar. Bake until light golden, about 45 minutes for large muffins, about 30 minutes for small muffins. Cool in pan 15 minutes. Remove from pan; transfer to wire rack, and let cool completely.
———————————————————————————–
Holly R. Layer received a B. A. in Journalism from Penn State and served four years in the U. S. Air Force before deciding to go back to school to become a Registered Dietician.  She loves running, reading, fine stationery, colorful kitchen gadgets and ALL things food-related.  An avid cook and baker, you can find her in the kitchen most days whipping up something yummy.  Too bad her husband, Andrew (an East Aurora native) is the pickiest man alive!  You can find her at www.thefrozenpineapple.com.