To me, broccoli is one of those 'all-purpose' vegetables.  It can join just about anything on the table and feel right at home, from Asian stir-fries to German sauerbraten to Italian saltimbocca.  There are countless ways to season it and it's relatively kid-friendly.
Eat What:
-Broccoli was brought to America from Italian immigrants and it's name means "the flowering top of a cabbage"
-"Broccoli Rabe" (also called 'Rapini'), is actually a kind of turnip
-Purple cauliflower is actually a variety of broccoli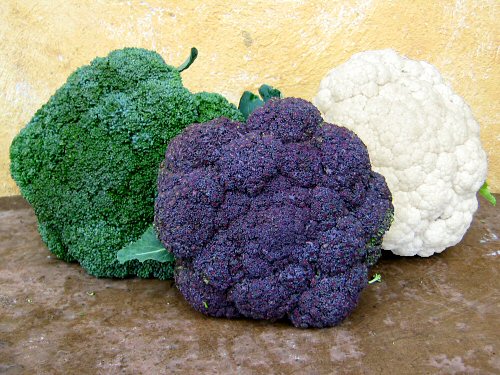 Eat When:
-Broccoli is best between October and April
-Store unwashed broccoli in an air-tight container in the fridge for up to four days
Eat Right:
-Broccoli is high in iron, fiber and Vitamins A and C
-Frozen broccoli has 35% more beta carotene (found mostly in the florets)
Eat More:
-Cook broccoli quickly and uncovered to retain its bright green color
-Steam and then top with soy sauce (a favorite of mine!) or a little olive oil, salt and pepper
–Broccoli Carpaccio, which uses the stalks instead of the florets
-Try roasting it and topping with Parmesan cheese or garlic and lemon
-Make your own Chinese take-out!  Try this beef and broccoli recipe
Almost-Famous Broccoli-Cheddar Soup
Here's Food Network's take on Panera's famous soup, often served in a bread bowl.  I prefer to save my calories and have a little bread on the side, but the soup is wonderful, nonetheless. Finally, a go-to recipe to get your fix at home.  (I pulled this recipe out of one of their magazines YEARS ago and still haven't made it…SOMEONE tell me how it turns out!)
Ingredients
6 tablespoons unsalted butter
1 small onion, chopped
1/4 cup all-purpose flour
2 cups half-and-half
3 cups low-sodium chicken broth
2 bay leaves
1/4 teaspoon freshly grated nutmeg
Kosher salt and freshly ground pepper
4 7-inch sourdough bread boules (round loaves)
4 cups broccoli florets (about 1 head)
1 large carrot, diced
2 1/2 cups (about 8 ounces) grated sharp white and yellow cheddar cheese, plus more for garnish
Directions
Melt the butter in a large Dutch oven or pot over medium heat. Add the onion and cook until tender, about 5 minutes. Whisk in the flour and cook until golden, 3 to 4 minutes, then gradually whisk in the half-and-half until smooth. Add the chicken broth, bay leaves and nutmeg, then season with salt and pepper and bring to a simmer. Reduce the heat to medium-low and cook, uncovered, until thickened, about 20 minutes.
Meanwhile, prepare the bread bowls: Using a sharp knife, cut a circle into the top of each loaf, leaving a 1-inch border all around. Remove the bread top, then hollow out the middle with a fork or your fingers, leaving a thick bread shell.
Add the broccoli and carrot to the broth mixture and simmer until tender, about 20 minutes. Discard the bay leaves. Puree the soup in batches in a blender until smooth; you'll still have flecks of carrot andbroccoli. Return to the pot. (Or puree the soup in the pot with an immersion blender.)
Add the cheese to the soup and whisk over medium heat until melted. Add up to 3/4 cup water if the soup is too thick. Ladle into the bread bowls and garnish with cheese.
———————————————————————————–
Holly R. Layer received a B. A. in Journalism from Penn State and served four years in the U. S. Air Force before deciding to go back to school to become a Registered Dietician.  She loves running, reading, fine stationery, colorful kitchen gadgets and ALL things food-related.  An avid cook and baker, you can find her in the kitchen most days whipping up something yummy.  Too bad her husband, Andrew (an East Aurora native) is the pickiest man alive!  You can find her at www.thefrozenpineapple.com.