Whenever my mom bought cherries at the grocery store, we wouldn't even make it home before she was eating them in the car.  Guess that was before we were so paranoid about scrubbing our produce with veggie wash, huh?  (Either that, or it explains A LOT about my mom…)  Just kidding!  I can honestly say that I've never been that crazy about cherries before, but as the years go by I seem to like them more and more.
Eat What:
-Cherries are part of the genus 'Prunus,' which also includes the plum, apricot and peach
-Cherry seeds require exposure to cold temperatures in order to germinate, which means they can't grow in tropical climates
-Turkey produces the most cherries for export
-Traverse City, Michigan calls itself the "Cherry Capitol of the World"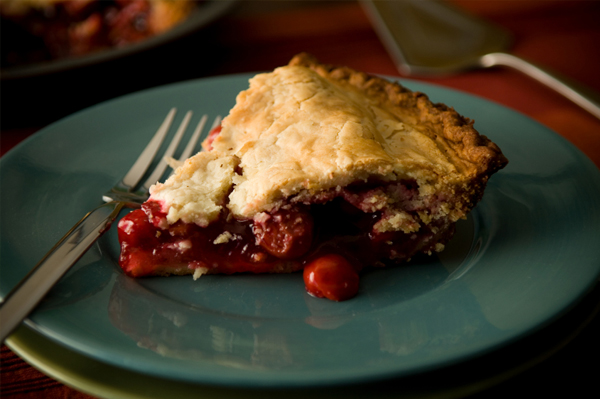 Eat When:
-Cherries are best here in June and early July, and are often the first tree fruits to ripen
-Store unwashed cherries in a plastic bag in the fridge, wash and bring to room temperature before eating
-To freeze fresh cherries, remove the pit first or the fruit will take on an almond-like flavor
Eat Right:
-Cherry anthocyanins have been shown to reduce pain and inflammation
-One cup of cherries is about 90 calories
-Cherries are high in melatonin–eat some before bed to help you sleep!
Eat More:
-It may not use fresh cherries, but this cherry limeade will surely be refreshing
-What's not to love about a cherry pie?
-Easiest cherry (no-bake) cheesecake ever
Grilled Tilapia with Cherry Salsa
I made this a couple years ago one summer for the hubby (who has never really liked fish) and I think it was the dish that finally convinced him tilapia was pretty good!  Give this a try soon while the fresh cherries are still around.
1 tablespoon olive oil, plus more for grill grates
1/2 pound (2 cups) Bing cherries, pitted and coarsely chopped
1/2 small red onion, finely chopped
1/4 cup fresh cilantro, chopped
1 jalapeno chile (ribs and seeds removed), minced
1 tablespoon fresh lime juice
coarse salt and ground pepper
1/2 teaspoon ground coriander
4 tilapia fillets (4 to 6 ounces each)
Heat grill to high; lightly oil grates. In a medium bowl, combine cherries, onion, cilantro, jalapeno, and lime juice. Season with salt and pepper, and toss to combine; set salsa aside.
In a small bowl, stir together coriander, 1 teaspoon salt, and 1/4 teaspoon pepper. Rub tilapia all over with oil; sprinkle with spice mixture.
Grill tilapia until opaque around the edges and underside loosens easily from grill, 2 to 3 minutes. Using a metal spatula with a thin blade, flip fish; continue to cook until opaque throughout, 2 to 3 minutes. Serve tilapia topped with cherry salsa.
———————————————————————————–
Holly R. Layer received a B. A. in Journalism from Penn State and served four years in the U. S. Air Force before deciding to go back to school to become a Registered Dietician.  She loves running, reading, fine stationery, colorful kitchen gadgets and ALL things food-related.  An avid cook and baker, you can find her in the kitchen most days whipping up something yummy.  Too bad her husband, Andrew (an East Aurora native) is the pickiest man alive!  You can find her at www.thefrozenpineapple.com.