In the same vein of our Thanksgiving post on holiday favorites, (and just in time for Thursday's extended hours at the Mini-Market!), here is a smattering of my all-time 'must-have' cookies at Christmas:
These are, perhaps, my absolute favorite at Christmastime.  And not just because we share a name!  They are easy to make and even easier to eat.  I pretty much make these continuously throughout the holidays since they disappear almost instantly.  Funny story:  I totally thought my mom invented them and that we were the only ones enjoying these delicious marshmallow-coated cereal morsels, until I randomly read a magazine article in which one of the Jonas brothers (of all people!) mentioned them too…  Bubble burst.  But, they're still just as good!
I don't know why these are traditional Christmas cookies, but they certainly seem to be.  My mom has been making them for years, and you always see the recipes and ingredients out at the grocery store in the weeks leading up to Christmas.  And, they are a staple at every holiday party.  Some are traditional, some add a little flair with different types of kisses or even peanut butter cups.  I'll admit; I'm a traditionalist on this one.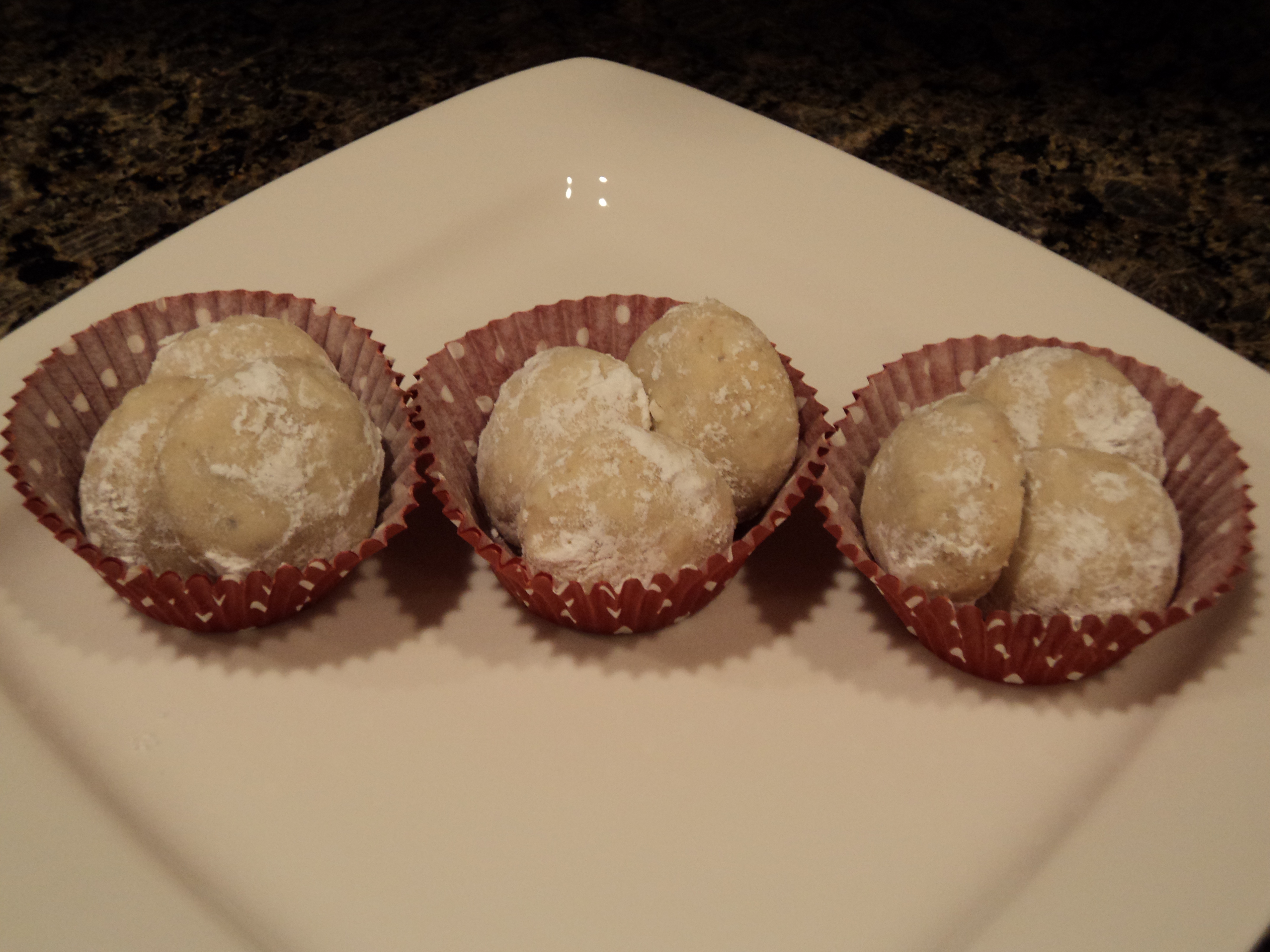 Almond Drops/Christmas Sandies
I have no idea what exactly these cookies are or are called, but I found the closest thing I could online (except that instead of cranberries, use chopped nuts).  (I suppose I could have gotten the recipe from my mom if I'd actually started this post BEFORE the night before it was due…)  Anyway, these are almond/shortbread/pecan cookies that simply melt in your mouth.  And she shapes them into these small rounds that just FORCE you to have more than one.
My mom goes crazy with the chocolate-dipping this time of year.  Oreos, pretzels, spoons for hot chocolate… For someone who still has two boys in high school and a job as a flight attendant (!!!), I don't know how she cranks out the number of confections she does.  Seriously, there are platters of cookies all over the place all Christmas long at our house.  Good for memory-making and reliving, bad for waistlines.
And then there are always the traditional cut-out cookies we all know and love.  Tons of fun to decorate–just make sure you get the icing right!
—————————————————————————————–
Holly R. Layer received a B. A. in Journalism from Penn State and served four years in the U. S. Air Force before deciding to go back to school to become a Registered Dietician.  She loves running, reading, fine stationery, colorful kitchen gadgets and ALL things food-related.  An avid cook and baker, you can find her in the kitchen most days whipping up something yummy.  Too bad her husband, Andrew (an East Aurora native) is the pickiest man alive!  You can find her at www.thefrozenpineapple.com.