I don't know about you, but I've been battling a cold now for a week!  I think I'm just healthy enough to keep from totally succumbing to the virus, but haven't been getting enough rest for my immune system to fight it off without me knowing it.  Thankfully, there are a few things I can do to help myself get better and STAY better for the rest of the season:
-Get enough rest.  (This is the one I have trouble with…)
-Wash your hands.  According to my microbiology teacher, antimicrobial soap isn't a must–in fact, we need some "good" germs to ensure our immune system stays sharp–so lather up with that all-natural soap you splurged on at the grocery store.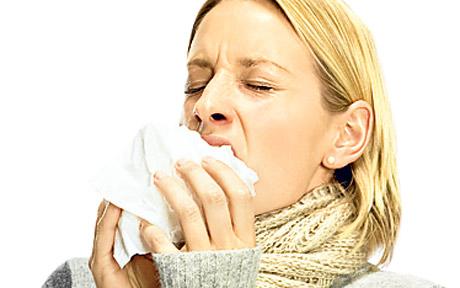 -Drink plenty of fluids.  Increased fluids help flush toxins out of our systems and rehydrates us, which is even more important during the colder months when we don't realize we're getting dry.
-Eat WELL.  Our bodies need good nutrition especially when we're down.  Below are some details, and a neat cookie recipe that's part-dessert, part-energy bar!
Lean Beef:  Zinc keeps our white blood cells healthy and strong and able to fight off intruders, like bacteria and viruses.  One 3.5-ounce serving supplies 70% of your daily needs and is very readily absorbed.
Orange Veggies: Beta-carotene, the orange pigment found in orange vegetables like butternut squash, pumpkin and carrots, is converted to Vitamin A in the body, which boosts immunity.
Berries: Brightly colored berries contain anthocyanins in the skins, which are phytochemicals that help prevent infection.  Look for blueberries, raspberries and strawberries in the freezer section.
Dairy:  Studies show that higher levels of Vitamin D are correlated to fewer cases of the cold and flu.  Instead of switching to full-fat milk, look for fortified cereals and yogurt.
What about Vitamin C? The truth is that Vitamin C, while lauded as the "cold cure," isn't a miracle worker.  In fact, there really isn't a ton of research to prove elevated amounts prevent the onset of cold or flu symptoms.  What it can do, however, is help shorten the time you feel icky.  Also, because Vitamin C is found in so many fruits and vegetables (like red bell pepper, cantaloupe, broccoli, red cabbage and tomato juice), it's part of that group of "phytonutrients" mentioned above.  Aim for 9 servings a day of fruits and vegetables.  If you don't eat that much (and really, who does?), it's a good idea to take a 500-mg Vitamin C supplement.  Don't take more than 2,000-mg daily–in addition to being unnecessary (our bodies can only metabolize a certain amount at a certain time, anyway), that is the safe upper limit.  Also, if you're one of those people who like to take those "Emergen-C" packets, (and I am one of them) be sure to note that they contain upwards of 1,000-mg per serving.  One per day is really all you need, especially if you're taking a supplement as well.

I found this in Food Network Magazine a couple years ago and ripped it out because it was so unique.  I've made them before and they're pretty good.  They're the kind of sweet treat you want when you aren't craving chocolate and still want a little redeeming value in the nutrition department.
2 1/4 C all-purpose flour
1 1/4 tsp baking powder
3/4 tsp baking soda
3/4 tsp cinnamon
1/2 tsp nutmeg
pinch ground cloves
1/4 tsp salt
1 stick unsalted butter, room temperature
1 C packed dark brown sugar
2 large eggs
1/4 C molasses
1/4 C lowfat plain Greek yogurt
1 tbsp fresh ginger, grated
2 tsp lemon zest (from about 1 lemon)
1/2 C old-fashioned (or rolled) oats
1 1/4 C golden raisins
1 1/4 C dried cranberries
1 1/4 C walnuts, toasted and chopped
1.  Whisk together flour, baking powder and soda, spices and salt in a medium bowl.
2.  Beat butter and brown sugar in the bowl of an electric mixer until light and fluffy, about three minutes.  Beat in eggs one at a time.  Add molasses, yogurt, ginger and lemon zest, mix until smooth.
3.  Set the mixer to low and add in the flour mixture, just until combined.  Fold in oats, half the dried fruit and walnuts.   Set the other half aside.
4.  Drop by heaping tablespoonfuls onto prepared baking sheets.  Top each with some of the reserved fruit and walnut mixture, then chill for 30 minutes.
5.  Preheat oven to 375.  Bake cookies 10-12 minutes, then let cool.
Nutritional Information: 1 cookie (makes about 30)
174 cal, 7g fat (2g sat), 22mg cholesterol, 28g carb., 1g fiber, 3g protein
———————————————————————————–
Holly R. Layer received a B. A. in Journalism from Penn State and served four years in the U. S. Air Force before deciding to go back to school to become a Registered Dietician.  She loves running, reading, fine stationery, colorful kitchen gadgets and ALL things food-related.  An avid cook and baker, you can find her in the kitchen most days whipping up something yummy.  Too bad her husband, Andrew (an East Aurora native) is the pickiest man alive!  You can find her at www.thefrozenpineapple.com.