Pronounced rah-DEE-kee-oh, this dark red, leafy vegetable is part of the chicory family and (here in the United States) is most commonly 'that purple stuff' you find on your salads.  While it has a slightly bitter and almost spicy taste, don't be afraid to give it a try!  The flavor mellows as it's cooked, so try throwing it into a dish soon!
Eat What:
-Radicchio is a native of Italy and is quite popular there in dishes like risotto or white bean salads, and is often grilled with a little olive oil
-It can come in both the large, round grapefruit shape (above), or elongated like the Belgian endive
Eat When:
-Radicchio is a cold-weather plant harvested in the spring, but can also yield two crops a year in some areas
-Store in the fridge in plastic for up to a week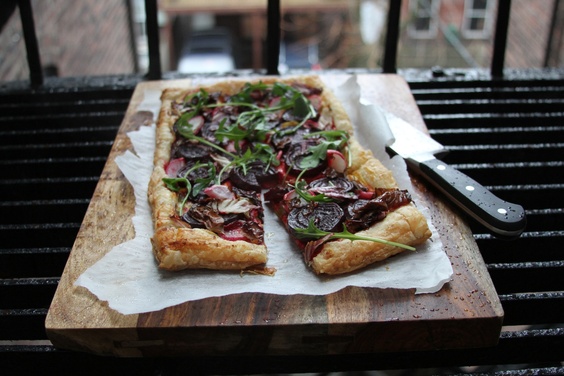 Eat Right:
-Radicchio is high in magnesium, potassium and Vitamin A
-Also high in dietary fiber, radicchio will help keep you full and has gastrointestinal benefits
Eat More:
-Try it in pasta
–Roast it with garlic
-Mix it with a bacon vinaigrette
2 heads of radicchio, quartered, so that each quarter has a bit of the stem end holding it together
1/2 cup olive oil, plus more to coat radicchio
1/4 cup balsamic vinegar
1 teaspoon salt
3 chopped garlic cloves
1/2 teaspoon mustard
Salt and black pepper
Pecorino or parmesan cheese for garnish
1 Make the dressing. Put the salt, garlic, mustard and balsamic vinegar into a food processor or blender and pulse to combine. With the motor running, drizzle in the olive oil slowly until the dressing comes together.
2 Prepare your grill for high, direct heat.
3 Coat quartered radicchio with olive oil and sprinkle with salt.
4 Grill the radicchio over high heat, uncovered. Keep an eye on them, as they blacken quickly. You want a little blackening, but not a cinder. When they're done, move to a bowl and bring inside to chop.
5 Chop the radicchio quarters into bite-sized pieces and toss with the dressing and some black pepper.
Serve hot or at room temperature, garnished with grated pecorino or parmesan cheese.
———————————————————————————–
Holly R. Layer received a B. A. in Journalism from Penn State and served four years in the U. S. Air Force before deciding to go back to school to become a Registered Dietician.  She loves running, reading, fine stationery, colorful kitchen gadgets and ALL things food-related.  An avid cook and baker, you can find her in the kitchen most days whipping up something yummy.  Too bad her husband, Andrew (an East Aurora native) is the pickiest man alive!  You can find her at www.thefrozenpineapple.com.