I'm willing to bet radishes don't make an appearance on your table very often; they certainly don't on mine.  While I like their satisfying crunch, their almost 'spicy' is a bit much for this mild-mannered girl.  However, I'm willing to give them another try if you are!  Instead of relegating them to the proverbial veggie tray, give them a little more TLC and a starring role in one of these recipes.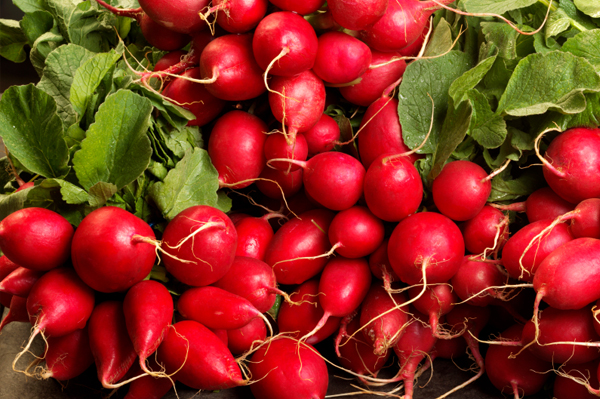 Eat What:
-The Greek name of the genus Raphanus means "quickly appearing" and refers to their rapid germination
-Radishes can be categorized into four main types (summer, fall, winter, and spring) and a variety of shapes, colors, and sizes, such as red, pink, white, gray-black or yellow radishes, with round or elongated roots that can grow longer than a parsnip
-Radishes serve as companion plants for many other species, because of their ability to function as a trap crop against pests like flea beetles. These pests will attack the leaves, but the root remains healthy and can be harvested later
-Cherry Belle is a bright red-skinned round variety with a white interior and is popular in North America
-The Daikon radish is long and white and often referred to as a 'Japanese' or 'East Asian' radish
Eat When:
-Radishes are season from April to June and from October to January in most parts of North America
-Remove the greens (top parts) and store in the refrigerator (radish leaves cause moisture and nutrient loss during storage). Store greens separately for 2-3 days. Refrigerate radishes wrapped in plastic bags for 5 to 7 days
Eat Right:
-One cup of radish slices provides about 2 grams fiber and is 19 calories
-Radishes are high in Vitamins B6 and C, as well as Riboflavin, Calcium, Magnesium, Copper and Manganese, Folate and Potassium
-Radishes are very filling; eating them helps you feel more full and eat less at a particular meal
Eat More:
-Most radishes are eaten raw; larger varieties like the Chinese and Japanese radishes can withstand cooking
-Simply slice and salt, or pickle them and store in the fridge
-Add sliced radishes to salads and veggie trays
–Braise them
Orzo Salad with Celery, Radishes and Dill
I'll be honest; I've never been a huge radish fan.  They've just always seemed to 'strong' for me.  But, you never know when you're going to change your mind about something!  I recently started eating raw carrots for the first time in my life…  Anyway, finding radish recipes was a bit challenging, but
Bon Appetit's stash
looked mouthwatering.  Check them out!
2 cups orzo (rice-shaped pasta)
1 1/2 cups very thinly sliced celery (about 3 stalks)
1 pint grape tomatoes, halved
1 bunch radishes, trimmed, thinly sliced
2/3 cup chopped fresh dill
5 tablespoons olive oil
4 tablespoons white balsamic vinegar
1 cup (about 5 ounces) crumbled soft fresh goat cheese (preferably with four peppers)
1.  Cook orzo in large pot of boiling salted water until tender but still firm to bite, stirring occasionally. Drain. Rinse under cold water; drain. Transfer to large bowl; add celery, tomatoes, radishes, and dill.
2.  Whisk oil and vinegar in small bowl. Season with salt and pepper and pour over salad; toss to coat. Season salad with salt and pepper. Fold in half of goat cheese. Sprinkle remaining cheese over and serve.
Nutritional Information: 8 side-dish servings
247 cal, 13.3g fat (4g sat), 24.4g carb., 2.8g fiber, 7.9g protein
———————————————————————————–
Holly R. Layer received a B. A. in Journalism from Penn State and served four years in the U. S. Air Force before deciding to go back to school to become a Registered Dietician.  She loves running, reading, fine stationery, colorful kitchen gadgets and ALL things food-related.  An avid cook and baker, you can find her in the kitchen most days whipping up something yummy.  Too bad her husband, Andrew (an East Aurora native) is the pickiest man alive!  You can find her at www.thefrozenpineapple.com.