*Disclaimer:  This is a post from last year at this exact same time.  Not surprisingly, I'm just as swamped with schoolwork and it's just as cold out.  So let's enjoy our soups, stews and chili for another couple weeks; I stockpiled a bunch of 'em this winter in the freezer and I've been pulling them out one by one on busy nights.  In fact, this entire week's menu comes straight from the freezer!
Well, it may technically be Spring, but the weather sure isn't 'spring-like' yet!  Here in Western New York, we still have a few more weeks (OK, maybe even a month…) to savor the foods that truly warm our bones before it's time to put away the soup pot for summer.  I included many of my favorites, and don't miss the THIRTY-TWO chilis Cooking Light has deemed 'the best.'  All have nutritional information provided and there is something for everyone: vegetarian three-bean, turkey, white chicken chili and even beef and butternut squash.  And don't forget the bread–recipe below!
For vegetable-lovers:
For those who like it creamy:
Ellie's Krieger's Broccoli-Cheddar Soup
For traditionalists:
Soups with a kick:
Ellie Krieger's Nutty Sweet Potato Soup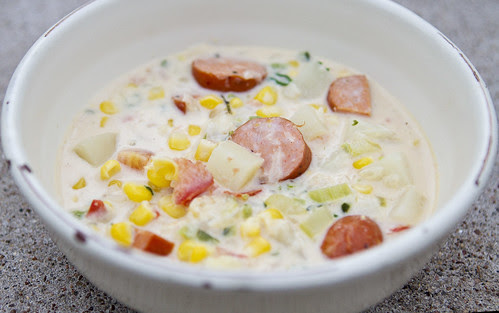 Shape Magazine's Spicy Chorizo Corn Chowder
Bring on the chili:
Cooking Light's Top 32 (!!!) Chili Recipes
White Chicken Chili with Quick-Roasted Garlic
Artisan Bread in Five Minutes a Day
I swear by this bread.  Artisan Bread in Five Minutes a Day will change your life.  (Or at least your bread-baking technique.)  Seriously.  If you have any interest AT ALL in making bread, go buy their cookbooks.  NOW.  Basically, Jeff and Zoe teach you how to make awesome bread at home in almost no time at all.  I'm living proof that it works; these breads are pretty much the only ones of mine I know will turn out perfectly each time.  In fact, I was shocked I could even find the recipe online at all.  I probably whip up a loaf once a week and spend about 15 total minutes doing it–ten to mix all the ingredients and five to shape my loaf.  Makes a great accompaniment to any soup, stew or chili!
Click above for the recipe, step-by-step instructions (with photos!) and their tips and techniques.
Holly R. Layer
Holly is a registered dietician and a freelance writer. She works as a clinical dietitian at DeGraff Memorial Hospital in North Tonawanda, teaches fitness classes at the Southtowns Family Branch YMCA and shares her love of food through her blog www.thefrozenpineapple.com (new website coming soon), as well as Buffalo News (Refresh), and the East Aurora Co-op Market (the "Eat This" blog series you see here). She lives in East Aurora with her husband Andrew, an East Aurora native and East Aurora Co-op Market board member.