What ARE all those relatively large, colorful and oddly shaped vegetables pouring into the grocery store's produce section this time of year?  Some are round, some have necks and even more have a nubby texture, while others are smooth.  They come in shades of green, yellow, orange and brown.  Alright, who am I kidding with the guessing game…  Chances are that if you're reading this blog, you're at least the smallest bit of a 'foodie,' which means you know exactly what they are: all sorts of winter squash!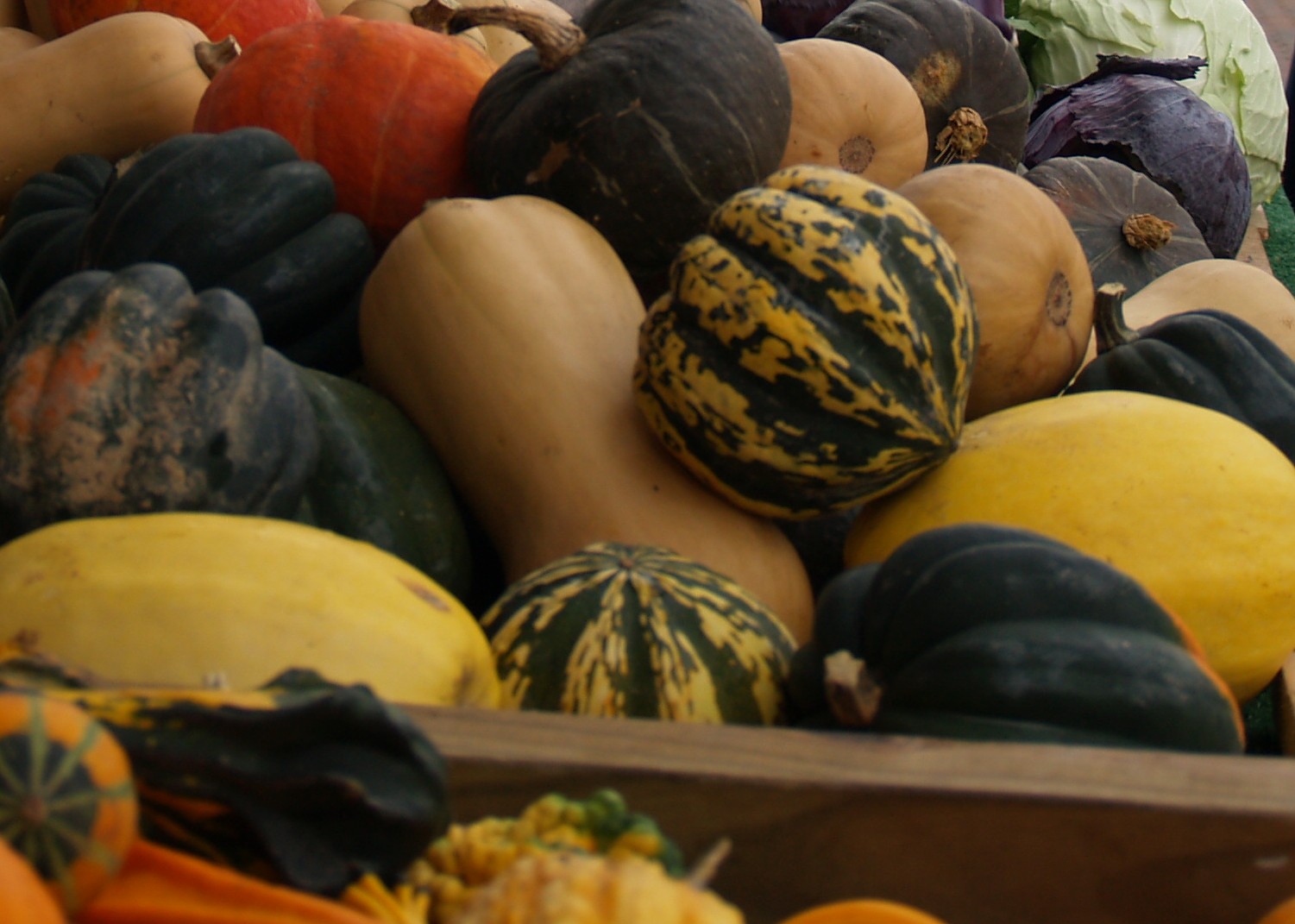 Eat What:
-'Winter squash' are almost the same as summer squash; the difference is that they have been allowed to mature, making their skin tough and inedible, as well as their seeds.
-Winter squash includes butternut, acorn, hubbard, sweet dumpling, turban, kobocha, gold nugget, delicata, buttercup, pumpkin and spaghetti varieties.
-Butternut and pumpkin are perhaps the most popular, but almost all of them can be interchanged with very little difference in taste and texture.
-The only one that is very different from the others is spaghetti squash; it's stringy texture makes it unique.  Instead of cutting it up or mashing it, try subbing it for noodles!
Eat When:
-Varieties of winter squash appear as early as August and last into November.
-Store in a cool, dry place before cutting.  After peeling and chopping, cut-up squash will last up to four days in the fridge.
-Consider roasting and then mashing or pureeing squash that's seen better days.  Once it's cool, freeze in bags (don't forget to label how much you put in!) up to 6 months.
Eat Right:
-All varieties of squash are high in Vitamins A and C, as well as potassium and magnesium
-Squash is high in fiber
-Seeds of winter squash are high in linoleic and oleic acids, which are both unsaturated fats–roast the seeds and enjoy!
-The darker the skin and flesh, the better!  Winter squash are high in alpha- and beta-carotene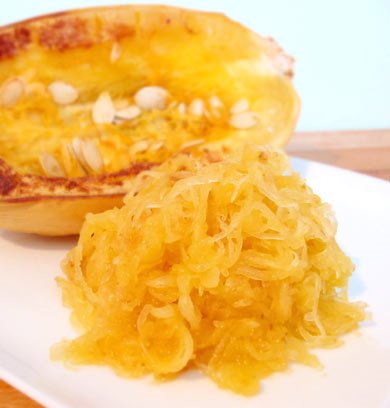 Eat More:
-Cut a spaghetti squash in half, roast cut-side down.  Using a fork, scrape the flesh until it forms "noodles."  Serve with your favorite spaghetti sauce!
-Recipes abound for curried butternut squash soup!  Give these a try:  Barefoot Contessa's Butternut Squash and Apple Soup, Ellie Krieger's Curried Butternut Squash Soup
-Cut acorn squash into wedges, roast with olive oil, maple syrup and hazelnuts
-Roast butternut squash in cubes, use them to top an arugula salad with pancetta, pecans, shallots and maple drizzle
Roasted Butternut Squash Soup with Tomatoes and Thyme
(adapted from Foster's Market cookbook–This is one of the only non-sweet butternut squash soups I've found and I love it!)
1 butternut squash, cut up and roasted (recipe follows)
1/4 C olive oil
6 plum tomatoes, cored and halved
4 garlic cloves
1 tbsp balsamic vinegar
4 tbsp unsalted butter
1 red onion, diced
1 carrot, peeled and chopped
2 ribs celery, chopped
6 C chicken or vegetable broth
2 tsp salt
1 tsp black pepper
1/4 C fresh thyme (or 4 tsp dried)
2 tbsp fresh parsley or chives
1 tbsp fresh sage, chopped (or 1 tsp dried)
1.  Roast the tomatoes and garlic with 2 tbsp of the olive oil and vinegar on a baking sheet at 450 for 30-35 minutes.  Let stand until cool enough to handle, crush and reserve juices.
2.  Heat remaining olive oil and butter over medium heat in saucepan.  Cook onion until translucent, about 10 minutes.  Add carrots and celery and cook until soft, about 10 more minutes
3.  Add broth, salt and pepper; reduce heat to low and simmer uncovered 20-25 minutes.
4.  Add squash to soup, simmer 20 minutes more, stirring occasionally.
5.  Remove from heat and add herbs.  Cool slightly, then puree using a food processor or immersion blender.  Season with salt and pepper and serve with bread.
Nutritional Information:  per 8 servings
208 cal, 13g fat (4.5 sat), 15mg chol., 670mg sodium, 18g carb., 3g fiber, 2g protein, 2g sugar
Roasted Butternut Squash
(from Ina Garten's "How Easy Is That?" cookbook–this is my favorite roasted butternut squash recipe, and I've tried a lot of them!
1 large butternut squash, peeled, seeded and diced (1-inch or smaller)
3 tbsp olive oil
1 tbsp minced fresh thyme leaves
2 tsp kosher salt
1 tsp black pepper
1.  Preheat oven to 400 degrees.
2.  Place squash on a sheet pan, add the rest of the ingredients and toss to coat.
3.  Roast 25-35 minutes, tossing once half-way to ensure even browning.  Squash is finished when all sides are brown and have even caramelization.
4.  Serve as a side dish, or incorporate into a soup (above), pasta or baked goods.
———————————————————————————–
Holly R. Layer received a B. A. in Journalism from Penn State and served four years in the U. S. Air Force before deciding to go back to school to become a Registered Dietician.  She loves running, reading, fine stationery, colorful kitchen gadgets and ALL things food-related.  She is currently living with her husband, Andrew, an East Aurora native, and their giant dog in a hotel while they house-hunt in the area.  You can find her at www.thefrozenpineapple.com.